This product has been discontinued by the manufacturer. We're unable to restock.
Any mention of "us," "we," "our," etc is by Focal, not Audio46
(Open box, complete, looks New) Authorized Dealer
3 Year Warranty. Free Expedited shipping. Ship only in USA.
Here are a few details to make your mouth water.
Features:
-The same M-shaped inverted dome as the Focal Utopia and Elear
-A full-range speaker driver
-Frameless copper voice coil with such a strong magnetic field that it produces the original recording's dynamics
-Can be used with portable music players because of its 55 Ohm impedance
-Comes with a thermoformed, hard-shell carrying case
-Comes with three different cables for your various listening needs including:
   • A 4ft (1.2m) cable finished with a 3.5mm stereo jack plug
   • A 10ft (3m) cable finished with a 6.35mm stereo jack plug
   • A 10ft (3m) with a 4-point XLR connector
 I am excited to announce that the Focal Clear Open-Back Headphones are now available here at Audio 46. These new, headphones have been greatly anticipated by fellow audiophiles and I'm happy to tell you what you'll get with this product.
Focal Clear Open-Back Headphones
In the Box
-Focal Clear Open-Back Headphones
-Thermoformed, Hard-Shell Carrying Case
-3 cable options:
   • A 4ft (1.2m) cable finished with a 3.5mm stereo jack plug
   • A 10ft (3m) cable finished with a 6.35mm stereo jack plug
   • A 10ft (3m) with a 4-point XLR connector
Specifications
Type
Circum-aural open-back headphones
Impedance
55 Ohms
Sensitivity
104dB SPL / 1mW @ 1kHz
THD
0,25% @ 1kHz / 100dB SPL
Frequency response
5Hz-28kHz
Loudspeaker
1.6" (40mm) Aluminum/Magnesium        'M'-shape dome
Weight
0.99lb / 450g
Cables provided

3m balanced cable (XLR 4-pin)
3m unbalanced cable (1/4" TRS jack)
1.2m unbalanced cable (1/8" TRS jack)
1/8" jack to 1/4" stereo jack adapter

Hard-shell carrying case provided
9.8"x9.4"x4.7" (250x240x120mm)
Drivers
The circum-aural open-back headphones have a special speaker driver which features a frameless copper voice coil. This voice coil has a strong magnetic field and as a result, reacts very quickly to dynamic changes in the music. As a result, your music will sound more like the original record and produce a more precise and "clearer" (pun intended- I'm sorry) emotional feeling. The headphones produce detailed transients with linear high frequencies.
Fit
The Focal Clear Open-Back Headphones include the same "M"-shaped inverted dome that the Focal Elear and Focal Utopia headphones have. This helps to make the headphones produce a plain wave, which otherwise would be impossible because, after all, the spears are barely an inch away from your ear. The dome is made of an aluminium/magnesium alloy making it light yet rigid, with a good amount of dampening. As a result, the lucky listeners who will own the Focal Clear Headphones will have the best fidelity headphones on the market that employ such mobility and comfort.
Ear pads on the Focal Clear are specially designed to act like a high-end listening room. They have very small 1mm sized perforations, contributing to the overall openness of the sound. The headband and ear cup position and shapes are designed to fit so comfortably on the head as to make them feel weightless.
The headband itself has a constant bend so that no matter the size of the head, the weight is distributed evenly to take pressure off the ears. It provides top-of-the-line sealing and comfort.
Focal Clear Open-Back Headphones (Open box) - Discontinued
Customer Reviews
Write a Review
Ask a Question
02/17/2021
William F.

United States
My New Favorites!
I've been using my Focal Clears regularly since I received them and they are my new favorites. I own numerous other open back headphones including: Hifiman HE6se, Hifiman Ananda, Hifiman HE400S, Beyerdynamic DT-1990 Pro, Sennheiser HD-6XX, Sennheiser HD-560S, Grado SR 325e, and others. The Focal Clears are my favorites thus far. I can wear them for hours, sometime forgetting I have them on. Their bass is punchy and well defined but not over blown. Mid range is luscious with excellent performance on both male and female vocals. Treble has just the right amount of air, with no sibilance that I can detect. These are a fun, entertaining listen. Highly recommended!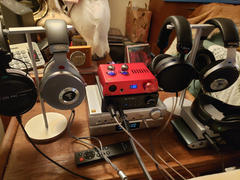 02/12/2021
grant k.

United States
Open box Focal Clears from audio46
Outstanding experience with audio46. Highly recommend. Item was as described, open box, but essentially unused.