Any mention of "us," "we," "our," etc is by Astell & Kern, not Audio46
KANN ALPHA
ES9068AS
Dual DAC
Quad-Core
CPU
Native DSD
256
32bit 384kHz
bit to bit play
Ultra-High Output,
12Vrms
LED Indicator
Bluetooth 5.0

Hardware
Full Decoder
Unbalanced Out (3.5mm) / Optical Out(3.5mm)
Balanced Out (2.5mm, only 4-pole supported 4.4m, only 5-pole supported)
The Power House
KANN ALPHA, the third product in the KANN series of Digital Audio Players.
While the goal of the Astell&Kern KANN line is to provide ultra high power output to drive any headphone or IEM, KANN ALPHA has not forgotten the essence of being a portable DAP,
so you can enjoy a near-perfect sound experience wherever you are.
The first Astell&Kern DAP to feature a 4.4mm balanced output
Complete separation of balanced lines to provide noise-free output
Crosstalk of 141dB and top-notch audio performance through a complete circuit redesign
Powerful 12Vrms ultra-high output support
14 ½ hours of continuous playback
Equipped with the latest version of Bluetooth, Bluetooth 5.0
Artistic design and ultra-precision metal shaping technology that Astell&Kern has perfected
First DAP to Feature 4.4mm Balanced Output Port,
Completely Noise-Free
The newly introduced feature of the 4.4mm balanced output port is exciting, however, the most important part is how we implemented it.
Unlike other manufacturer's products, KANN ALPHA has physically separated the 2.5mm and 4.4mm outputs using micro relays.
When 2.5mm and 4.4mm structures are connected only to the mute circuit they do not prevent noise interference that may occur because each signal is not properly blocked.
KANN ALPHA boasts noise-free output because we built in an independent structure that completely blocks interference from outputs that are not being used and to be switched off therefore preventing the noise from occurring.
Gold PVD Coating Method
In order to minimize contact noise from the output, a gold PVD coating method is applied to the headphone connector instead of the typical rings used by other products. This improves both design and function.
By adopting NDICS' Pentaconn 4.4mm connector, KANN ALPHA not only satisfies the requests of users, but the implementation boasts excellent quality and durability.
The Highest Level Of Channel
Separation(Crosstalk)
KANN ALPHA boasts excellent performance measurement for crosstalk. Channel crosstalk is how much signal leaking there is between the L and R channels.

The higher the crosstalk number, the better the separation between channels and the deeper and wider the sense of space that can be felt.

As evident with the newly developed audio circuit design, KANN ALPHA features a never before seen Crosstalk measurement of -141dB(High Gain), which is unmatched by any other portable audio products in its class.
Powerful 12Vrms Output
With 14 ½ Hours of Continuous
Playback

KANN ALPHA supports the same powerful 12Vrms output as the existing KANN CUBE, however the player has been optimized to be more compact.
This is achieved through the miniaturization of numerous parts such as resistors and capacitors, by rearranging various components and through circuit optimization. This resulted in the modification of more than 60 parts during the development process.

Ultra-small tantalum capacitors, which were developed exclusively for Astell&Kern through a collaboration with Matsuo Electric in Japan to meet our high performance requirements, supply stable power to the player and suppress electrical noise.

This redesigned power circuit used in KANN ALPHA also allows us to achieve 14 ½ hours of continuous playback.

A comparison of outputs of KANN ALPHA vs. KANN CUBE vs. KANN
Features
KANN ALPHA
KANN CUBE
KANN
Product

Output Level
[High]
Unbalanced 6Vrms
Balanced 12Vrms
(Condition No Load)
[High]
Unbalanced 4.1Vrms
Balanced 8.1Vrms
(Condition No Load)
[Mid]
Unbalanced 4Vrms
Balanced 8Vrms
(Condition No Load)
[Low]
Unbalanced 2.1Vrms
Balanced 2.1Vrms
(Condition No Load)
[Low]
Unbalanced 2Vrms
Balanced 4Vrms
(Condition No Load)
Dimensions (WxHxD)
68.3 x 117 x 25(mm)
87.7 x 140 x 31.5(mm)
71.2 x 115.8 x 25.6(mm)
Playback Time
14 ½ Hours
9 Hours
15 Hours
Equipped With Bluetooth 5.0 and Support for
Wireless 24-Bit Qualcomm® aptX™ HD , LDAC Codecs

KANN ALPHA is the first Astell&Kern player to use Bluetooth 5.0.
The latest Bluetooth version provides high sound quality with the convenience of wireless playback to headphones and IEMs.

Bluetooth 5.0 features faster transmission speed and greater range compared to Bluetooth 4.2, therefore providing a more stable wireless connection.

Both LDAC and Qualcomm® aptX™ HD is supported to provide audiophiles with the best wireless sound possible.

The high-quality sound that Astell&Kern is known for can now be heard when using Bluetooth earphones, headphones, and speakers.
Customize Your Sound
With KANN ALPHA, you can enjoy the fun of creating your own customized sound by selecting among various DAC filters provided by the DAC manufacturer.
Impulse Response

Filter name

Description

Linear Phase Fast Roll-Off

Most Common filter with clean suppression and high rejection, best for music with high transients. Provides crisp clean highs

Minimum Phase Slow Roll-Off

Non Symetrical filter designed to minimize pre ringing.
Strong punchy bass with good transient attacks

Hybrid Fast Roll-Off

Combination of Linear phase and Minimum phase.
Fast transient attack, strong punchy bass, crisp highs.
Real-Time Information Confirmed by Light
KANN ALPHA features a LED volume wheel which displays various playback information,
including volume level and bit-rate of the track currently playing.
* LED can be turned on or off according to user setting.
LED Lighting Off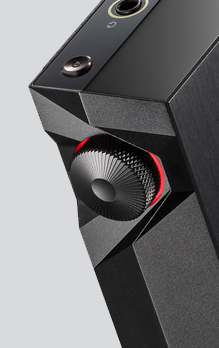 16bit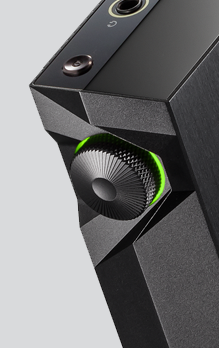 24bit
32bit
DSD
Unique Manufacturing Technology Taken to a New Level
Astell&products are often compared with art sculptures in that they feature colorful facets and angles that cannot be found in other products.
This is accomplished through the use of extremely precise metal manufacturing technology that has been perfected by Astell&Kern over many years.
The first generation KANN used an extrusion method to form the aluminum body where the KANN APLPHA uses precise metal manufacturing to create a luxurious and detailed design.
A precision mold is then separately manufactured for the high-gloss ceramic top cover.
Astell&Kern then uses more than seven different processes including low-speed machining to form the ceramic top cover and prevent cracking.
Unlike other manufacturers, a ring is not simply inserted into the ceramic top where each audio terminal is located, instead a gold PVD coating is applied to minimize noise. A special coating is also applied to the ceramic surface to prevent fingerprints and smudging.
Astell&Kern's proprietary aluminum body design suppresses noise to improve sound quality, while providing the best signal transmission to the audio circuits.
With our laser ground extension technology, you can achieve the best sound possible.
The vibration-free processing machines used by Astell&Kern are the same ones used by expensive Swiss luxury watch manufacturers.
This is reflected in the crafting of the volume wheel which is processed precisely like the crown of a luxury watch for the best operating feel.
Independent machining processing is applied to individual areas to create each small pattern.
Specification
General Specifications
Display
4.1inch HD 720 x 1280 Touch Display
Supported Audio Formats
WAV, FLAC, WMA, MP3, OGG, APE, AAC, ALAC, AIFF, DFF, DSF, MQA
Sample rate
PCM : 8kHz ~ 384kHz (8/16/24/32bits per Sample) / DSD Native: DSD64(1bit 2.8MHz), Stereo
/ DSD128(1bit 5.6MHz), Stereo / DSD256(1bit 11.2MHz), Stereo
Output Level
High: Unbalanced 6Vrms / Balanced 12Vrms (Condition No Load)
Mid: Unbalanced 4Vrms / Balanced 8Vrms (Condition No Load)
Low: Unbalanced 2Vrms / Balanced 4Vrms (Condition No Load)
DAC
ESS ES9068AS x2 (Dual DAC)
Decoding
Support up to 32bit / 384kHz Bit-to-Bit Playback
Input
USB Type-C input (for charging PC & MAC)
Outputs
Unbalanced Out (3.5mm) / Optical Out(3.5mm)
Balanced Out (2.5mm, only 4-pole supported 4.4m, only 5-pole supported)
Wi-Fi
802.11 b/g/n (2.4GHz)
Bluetooth
V5.0 (A2DP, AVRCP, Qualcomm® aptX™ HD, LDAC)
Dimensions
2.68 "(68.3 mm) [W] x 4.60 "(117 mm) [H] x 0.98 "(25 mm) [D]
Weight
about 11.14 oz (about 316 g)
Feature Enhancements
Firmware upgrades supported (OTA)
Audio Performance
Frequency Response
±0.021dB (Condition: 20Hz~20kHz) Unbalanced / ±0.024dB (Condition: 20Hz~20kHz) Balanced
±0.21dB (Condition: 20Hz~70kHz) Unbalanced / ±0.155dB (Condition: 20Hz~70kHz) Balanced
Signal to Noise Ratio
116dB @ 1kHz, Unbalanced / 117dB @ 1kHz, Balanced
Crosstalk
-128dB @ 1kHz, Unbalanced / -136dB @ 1kHz, Balanced
THD+N
0.0003% @ 1kHz, Unbalanced / 0.0005% @ 1kHz, Balanced
IMD SMPTE
0.0003% 800Hz 10kHz(4:1) Unbalanced / 0.0003% 800Hz 10kHz(4:1) Balanced
Output Impedance
Unbalanced Out 3.5mm (0.8ohm) / Balanced out 2.5mm (2.0ohm), 4.4mm(1.8ohm)
Clock source
Reference Clock Jitter
250 Femto Seconds(VCXO)
Battery
Capacity
5,600mAh 3.8V Li-Polymer Battery
Playback Time
About 14.5 hours (Standard : FLAC, 16bit, 44.1kHz, Vol.80, LCD Off, Low Gain)
Charge Time
About 3.5 hours (9V/1.67A Fast Charging) / 5hours (5V/2A General Charging)
Memory
Built-in Memory
64GB [NAND]
External Memory
microSD (Max. 1TB) x1
OS
Supported OS
Windows 7,8,10 (32/64bit), MAC OS X 10.7 and up
- The image/specification may be changed without notice to improve product performance and quality.
What the Press is Saying
"The Kann Alpha is a worthy new iteration of the Kann series. Astell and Kern boast a pretty powerful machine that can carry a unique sound signature when paired with the right headphone or IEM. Battery life is a little on the shorter side, but it's mainly a minor gripe since the Alpha can still last through a significantly long trip if you're going portable. With the Kann Alpha Astell and Kern prove once again why they're at the top of the DAP brands."