WIRED HEADPHONE
Any mention of "us," "we," "our," etc is by Empire Ears, not Audio46
The Bravado has long been a favorite of musicians and audiophiles alike. It's balanced signature and segment leading separation lead to high-performance for any use-case. The Bravado MKII builds upon this foundation, upgrading the dynamic subwoofer to our all-new Weapon IX+ subwoofer and adding dual EST drivers and our EIVEC system to bring a nuanced and layered presentation that heightens the listening experience to new levels of musicality and analytical enjoyment. The powerful and refined low end dances across an enormously increased soundstage while the dual EST array delivers the finest details with a clarity that never dominates.
For the Bravado MKII, the apple didn't fall far from the tree, but it sure got a whole lot tastier. The tribrid architecture of the dynamic Weapon IX+ for the lows, a balanced armature for the mids, and ESTs conquering the highs make for a statement piece that demands attention.
The Bravado MKII has an all new livery, adorned with a suspended metallic glitter faceplate - called Deep Field - that, like the sound signature of the Bravado MKII itself, toes the line between subtle and bombastic.
TECHNICAL SPECIFICATIONS
4 Drivers - 1 Sub-Bass/Bass, 1 Mid, 1 High, 1 Ultra-High
4-way synX Crossover Network
EIVEC
A.R.C - Anti-Resonance Compound
Alpha-IV Bespoke 26AWG UPOCC Copper Litz Cable
99 dB SPL @ 1kHz
5Hz - 100kHz Frequency Response
4 Ohms @ 1kHz Impedance
Cable Termination: 3.5 mm, 2.5 mm
THE NEW CABLE
In order to increase the usability and lifespan of our cabling we have partnered with Effect Audio to bring to market an evolution of their well loved cable, the Ares II, known as the Alpha IV (A4).
Rocking new y-splits and over-molded 2-pin barrels, this new cable delivers the same high performance in a package truly built to last.
ALPHA IV
Customer Reviews
Write a Review
Ask a Question
10/26/2022
Peter L.

United States
Amazing
Could not be happier
10/19/2021
Youfu F.

United States
comfortable and Awesome
I'm not a professional in music equipment. I learned about this brand only because BlackPink posted a picture of an Empire IEM, so I chose this one which looks so gorgeous but not too pricy. Never used earphones in such price range before, but man, these 2 little thing, literally gave me a "wow" when I started listening music with them. Never thought IEM is this good (I only have a sony 1000xm3 before). And it's very comfortable, after you choose the right size of ear tips. the package is really hight end, the containing box is made by metal, quite heavy, but really well made. anyway, I love it, definitely a worth it purchase.
07/15/2021
Kristopher S.

United States
If You Like Bass!
Recently I moved from the Campfire Audio Polaris to Empire Ears Bravado. There is a noticeable difference in lows and highs. At normal listening levels the music sounds right. Everything seems even. When listening levels are raised the bass really stands out. I am not a professional this is only my opinion. Thanks, Kristopher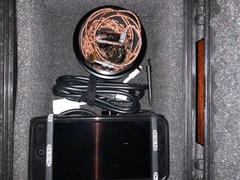 05/25/2021
Sieu N.

United States
Very good IEM
Heavy bass and good sound
04/19/2021
Sieu N.

United States
Sounds great
Very good iem thank you