iFi at Audio46
---
This product has been discontinued by the manufacturer. We're unable to restock.
Any mention of "us," "we," "our," etc is by iFi, not Audio46
iFi - Pro iDSD 4.4 DAC and Amplifier
This new version of the flagship reference DAC replaces the 2.5mm headphone output with a balanced 4.4mm headphone output while also providing a slight bump in power (4200mW @ 16ohms, balanced) and an improved circuit design for better sonics and stability.
Pro iDSD
Our Pro iDSD is for all music lovers, looking for their stairway to heaven.
It's a DAC and so much more. It will take your music, movies and gaming to new heights.
A hi-res trinity
Our flagship Pro iDSD is for those who like music in all its flavours, especially high spec.
It's a standalone unit, a streamer and a DAC/amp.
And with the option to listen in solid-state, tube or tube+, there's something for everyone.
DSD1024. Dizzy heights.
The Pro iDSD plays all high quality files from MP3 up to DSD.
It plays MQA and, for the first time, it brings Studio Grade DSD1024 to a wider audience – a rare feat. You are well and truly future-proofed.
All controlled from the palm of your hand via an app.
With added muscle
As with most iFi gear, we added filters to add flavour to your listening.
Check out the GTO filter. Just like the American muscle car, it adds weight and a new dimension to your driving…sorry, listening.
We've also given you Bit Perfect, Bit Perfect+, Apodising, and Transient Aligned.
Playtime
Choose a wireless connection to stream your favourite tunes from Tidal, Spotify, Napster – the list is endless.
Take it up a notch by using a wired Ethernet connection to play from a router or NAS (Network Attached Storage).
Or relax with AirPlay to enjoy playback from your iPhone, iPad or Mac.
To USB or not to USB
Use USB Type A to connect a hard disk drive or a memory stick or Type B to connect a laptop or server.
Or slot in a micro SDHC card with music files for instant playback.
Enjoy soulful tunes from your CD transport and enhance your gaming or movie experience as you connect via the coaxial/digital input.
Sound has never sounded so good.
Mood music
Finally, we've given you a choice of headphone sockets and outputs to cover all tastes. Big ones, little ones, balanced ones…
The Pro iDSD now currently comes in two 'balanced' versions – with 4.4mm or 2.5mm balanced headphone sockets. You choose which version you need.
So, whatever your mood, however you connect or listen, the Pro iDSD has an option for you.
Features: 
The Pro iDSD has a 'quad 'stack' of Bit-Perfect DSD and DXD DACs by Burr-Brown. The 'interleaved' configuration means up to 8 pairs of differential signals can be used and mixed, equal to 4 pairs of signals per channel.
The Pro iDSD employs the new XMOS XU216 X-Core 200 Series 16-Core processor. All-digital processing is Bit-Perfect unless particular digital filters are explicitly selected.
Upsampling to DSD1024 has previously only been available to a select few. The Pro iDSD makes it available to a wider audience. The DSD1024 remastering is handled by the Crysopeia® FPGA and this is where we believe the FPGA excels.
Listen to Master Quality Authenticated audio straight out of the box. Connect to Tidal Masters and check the option to stream MQA.
Data is sent to the Memory Buffer from all inputs. Here it is de-jittered to eliminate any transmission of source jitter to the DAC output. The data from the Memory Buffer is further re-clocked by the low-jitter Global Master Timing® clock, which also drives the X-Core 200 and FPGA.
With LINKPLAY™ WiFi/network playback, built-in Spotify and Tidal, and wide protocol support for 32-Bit/192kHz and DSD64, the Pro iDSD can be also used without a computer to stream audio directly.
Galvanic isolation is the 'holy grail' of computer audio.
All inputs are galvanically-isolated (including USB). The USB input section has its own separate power management system with multiple regulators and filtering operating from the galvanically-isolated voltage generated to power this section.
Unlike other amplifiers that have the same circuit and just switch in/out the tube section, the Pro iDSD is the very first of its kind to have two individual input circuits - one tube (General Electric 5670 tubes!) and one solid-state. This results in the 'best sonics of both worlds'.
We've given the Pro iDSD an extra Tube+ setting. This reduces overall loop-gain and negative feedback to the minimum and presents a different sonic perspective between the tube's natural harmonics and transient performance.
The amplifier audio circuit is fully discrete, fully-balanced with either tube or J-FET input switchable, bipolar second stage and MOSFET-buffered bipolar Class A Power stage.
The Pro iDSD is packed full of premium components - a Japan Alps rotary volume potentiometer, audio-grade ELNA Silmic capacitors and a bank of Elna Dynacaps 'super capacitors'.
Specifications:
Sample rates:
PCM up to 768kHz DSD up to 49.152MHz (DSD 1024) DXD and double-speed DXD (2xDXD)
Inputs:
USB (required for DSD, DXD and sample rates above 192KHz) AES3 (XLR – single link) S/PDIF (coaxial/optical combo) BNC multifunction (S/PDIF in or sync input)
Outputs:
Balanced XLR at 4.6V (+15.5dBu – HiFi) or 10V (+22dBu – Pro) Single-Ended RCA at 2.3V (HiFi) or 5V (Pro) Headphones 6.3mm & SE 3.5mm Jack at 0.55V/2.1V/5V Headphones BAL 2.5mm/4.4mm Jack at 1.13V/4.6V/10V Headphones out 1,500mW RMS X 2 @ 64 ohm, 4,000mW max. 2 X @ 16 Ohm
Headphone Output Impedance:
Single-Ended (S-BAL): < 1 Ω Balanced: < 2 Ω
Volume control:
Balanced (6-gang) Alps potentiometer, motorised with IR remote control XLR/RCA outputs can be selected as fixed level or adjusted 6.3mm headphone jack is always adjusted
Other Functions:
Various digital and analogue filters can be selected for DSD and PCM up to 384KHz
PCM Filters:
Bitperfect 44.1 – 192kHz, always used for 352.8 – 768kHz Bitperfect + 44.1 – 96kHz Gibbs Transient Optimised 44.1 – 384kHz Apodising 44.1 – 384kHz Transient Aligned 44.1 – 384kHz
DSD filters:
fixed 3rd order analogue filter @ 80kHz with correction for DSD's -6dB gain
Gain (headphone section):
user-selectable: 0dB, 9dB and 18dB
Dynamic range:
119dBA (solid-state, PCM, -60dBFS)
Output power
Pro iDSD 4.4mm socket. (16 Ω, balanced/single-ended): >4200mW /1>1,575mW

Pro iDSD 2.5mm socket. (16 Ω, balanced/single-ended): >4000mW /1>1,500mW

Output voltage
(600Ω, balanced/single-ended): >11.2V / >5.6V
Input voltage (Pro iDSD):
DC 9V/6.7A – 18V/3.35A
Input voltage (iPower+):
AC 85 – 265V, 50/60Hz
Power consumption:
< 22W idle, 50W max.
Dimensions:
213 (l) x 220 (w) x 63 (h) mm
Weight:
1980g (4.37 Ibs)
iFi - Pro iDSD 4.4 DAC and Amplifier - Discontinued
Customer Reviews
Write a Review
Ask a Question
08/27/2021
Fred F.

United States
08/21/2021
Alex D.

United States
iFI Pro DSD - Excellent Headphone DAC
Bought for the Burr Brown multibit dac. Its and excellent dac as good or better than some of the other popular dacs. This is a TOTL dac for sure. THe included ability to upsample to DSD 1024 and the various filters AND to add both a SS and a Tube output stage easily switchable is outstanding. The unit is no hard to use or understand. Excellent engineering and design.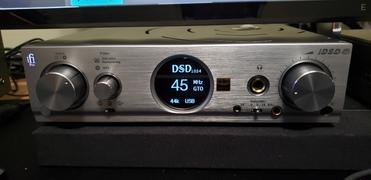 Your cart
(Checkout includes Audio46 Pay and Affirm financing)

--OR--
Go through checkout faster with our Express Checkout options: