Any mention of "us," "we," "our," etc is by Audio-Technica, not Audio46
Authorized Dealer. 2

 

Year Warranty. Free Expedited shipping.
Open Air Dynamic type
Driver: 58 mm, magnetic circuit using permendur
Output sound pressure level: 100 dB / mW
Frequency Response: 5 to 50,000 Hz
Maximum input: 1,000 mW
Impedance: 420 
Input terminal: A2DC connector jack
Plug: 6.3 mm gold plated stereo standard plug
Accessories: 3.0 m detachable cord (6.3 mm gold plated stereo standard plug) /Hard case /Japanese Instruction Manual
The ATH-ADX5000 Hi-Res Audio headphones set a new standard in open-back headphone performance. First of all, the headphones utilize newly developed Core Mount Technology. This technology optimally positions the driver unit within the housing to improve airflow efficiency. As a result, the headphones reproduce highly transparent mid and high frequencies and rich, precise bass sound.
Next, the 58 mm drivers combine a tungsten-coated diaphragm, baffle and Permendur magnetic circuit in a single unit. Consequently, this reduces unwanted vibration. The headphones are lighter than they would be otherwise because they don't require screw clamps. The baffle is made of a highly-rigid polyphenylene sulfide (PPS)/glass fiber composite. Therefore, it provides stable diaphragm movement.
Finally, the housings of the Audio Technica ATH-ADX5000 Audiophile Open-Air Headphones have a honeycomb-punched design. As a result, it keeps the housing face open to ventilation, while closing off the sides. Additionally, it delivers an accurate, natural sound, but prevents air pressure loss that can negatively affect sound quality. Strong and lightweight magnesium makes up the frame of the headphones. Lastly, the earpads and headband are fashioned from Alcantara, a material known for its extreme durability and comfort.
The Audio Technica ATH-ADX5000 Audiophile Open-Air Headphones are the first of this kind by Audio Technica!
In the Box
Additionally, the ATH-ADX5000 headphones come with a detachable 3.0 m (9.8') cable with A2DC (Audio Designed Detachable Coaxial) connectors at the headphones and a 6.3 mm (1/4") gold-plated stereo plug for connecting to devices.  Laser etched serial numbers identify each pair of headphones. Each comes with a specially designed hard carrying case.
Features:
58 mm integrated driver units utilize a Permendur magnetic circuit with exceptional magnetic characteristics
Each housing is carefully hand assembled in Tokyo
Tungsten-coated diaphragm provides high rigidity for an improved transient response
Integrated driver unit design combines diaphragm, voice coil, baffle and magnet in single unit to reduce unwanted vibration
Laser etched serial number identifies each pair which comes with a specially designed hard carrying case
Newly developed Core Mount Technology places driver unit in optimal position for improved airflow and excellent full-range audio reproduction
Magnesium frame results in rigid, thin, lightweight construction
New honeycomb-punched housing design blocks side ventilation to prevent undesirable air pressure loss
Luxurious Alcantara material used on earpads and headband, providing amazing comfort and durability
Detachable 3.0 m (9.8') cable with A2DC (Audio Designed Detachable Coaxial) connectors at the headphones and 6.3 mm (1/4") gold-plated stereo plug
WHAT THE PRESS IS SAYING
"I think Audio-Technica ATH-ADX5000 is not getting attention it deserves. :)

Having listened extensively to Audeze LCD-3, Audeze LCD-X, Sennheiser HD 800 S, Sennheiser HD 800, Focal Clear, Focal Elegia, MrSpeakers AEON Flow Open, MrSpeakers AEON Flow Closed, Audeze LCD-2 and Audeze LCD-2 Classic at my local dealer, ATH-ADX5000 were my favorite headphones, with incredible detail, speed, transparency, extremely airy, and completely "effortless" when playing."
"They're not $2,000 headphones, they're a portal to sounds you've never heard"
"The Audio Techinca ATH-ADX5000 are wonderfully comfortable, light, and great sounding headphones. They did a great job with their first open back cans and Im excited to see what they come up with next."
Specifications:
| | |
| --- | --- |
| Type | Open-back dynamic |
| Driver Diameter | 58 mm |
| Frequency Response | 5 – 50,000 Hz |
| Maximum Input Power | 1,000 mw |
| Sensitivity | 100 dB/mW |
| Impedance | 420 ohms |
| Weight | 270 g |
| Cable | Detachable 3.0 m (9.8') cable with A2DC connectors |
| Connector | 6.3 mm (1/4") gold-plated stereo plug |
| Accessories Included | Hard carrying case |
Customer Reviews
Write a Review
Ask a Question
10/06/2021
Dr T.

United States
I agree with Richard
I also compared these directly with the Sennheiser HD 800S, and found the Senn as having a wider soundstage, but not as much bass / lower mids as the AT. The AT is very detailed, if not slightly sharp and pronounced in the treble region. I read one reviewer commenting that these might be best suited for oldsters (like me) losing the top register of their hearing abilities. (S)he might be right. I find these more enjoyable to listen to than my Senn HD 800S and will likely sell the latter as a result. If you like phones that convey the energy of the music, that do an excellent job of separating one instrument from another, and provide a great deal of detail retrieval, then these are for you. In terms of overall enjoyment, I would rate these in between my Hifiman Ananda and Focal Clear Pro. I also think they are a bit overpriced, but what's a couple hundred bucks in this ***** audiophile hobby, anyway? I probably paid more for all the cables tethering my components together than for what these phones cost. I played these phones through my Burson Conductor 3 Reference, RME ADI-2DAC FS, and Feliks Audio Espressivo Mk II. These high impedance phones sounded their best when plugged into the Espressivo tube amp. Tube "warmth," I suppose. And thank you, Richard, for the tip on Arctic Cables. I have the Magnus Elite Series cables on order for these phones. Grateful to have ears. Audeze LCD-X, Denon AH-D9200, Hifiman Ananda, Oppo PM-3, Meze Audio Elite, Focal Clear Pro, Sennheiser HD 600, Audio Technica ATH-ADX5000, Sennheiser HD 800S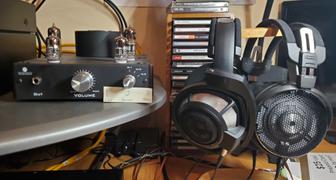 09/21/2021
Chun-Hung L.

United States
excellent
excellent headphone that complements my hd800 well, for individual instruments and female vocals hd800 for the big string and orchestra
06/11/2021
Richard Y.

United States
VS HD800S
Since the ADX5000 is a neutral, open-back dynamic, I'll compare it to the Sennheiser HD800S. They're both light and have little clamp force; very comfortable. I prefer the round pads of the ADX5000 because there's less pad touching different parts of my face. I don't like the adjustment mechanism though, it's too easy for the ear cups to slide around when handling the headphones - then I have to adjust the fit the next time a wear the phones. The (dual) headband design is questionable but I really don't feel them when on my head so I guess they work fine. The sound is similar between the two cans, especially the midrange and treble. Both are very open and can get a little sharp at times. Both sound a little artificially boosted in the highs (when compared to something like the Focal Clear original). But the ADX5000 has more bass; there's a 2-3 dB boost in the midbass. I never think they sound warm but when compared to the HD800S, yeah they're warmer. I believe the HD800S has a wider soundstage but the ADX5000's are no slouch. I wish the ADX came with two cables, a long and short. Unfortunately, it only comes with a 3 m. And worse, it terminates in a ¼ inch. These cans require some power, especially when listening to orchestral movie soundtracks that have a lot of dynamic range. The ¼ inch plug doesn't tap into the greater power of my balanced amps. Of course, the ADX has the not-so-common A2DC connectors as well. I did upgrade to a shorter, balanced cable from Arctic cables. I think the ADX5000 is a fine headphone but you could argue it's overpriced compared to its' competitors. It comes with a nice case that I'll never use. If you're a fan of Audio-Technica and just have to have their TOTL headphones, then this is for you.