2-Year Warranty
Open-back studio reference headphones for mixing and mastering
Handcrafted in Germany
250 ohms, 45-mm dynamic Tesla neodymium driver
Single-sided, detachable cable with mini-XLR connector
Soft, replaceable ear pads and headband for long, drawn-out studio sessions
Beyerdynamic DT 1990 PRO 250 Ohm Open-Back Headphones
For decades now, professional users all around the world have placed their trust in Beyerdynamic studio headphones. They remain the number one choice for music producers, sound technicians, and broadcast users and are a firmly established piece of equipment in studios worldwide. The Beyerdynamic DT 1990 PRO 250 Ohm Open-Back Headphones combine these decades of expertise in headphone technology with the latest Tesla driver technology in an open-back design. Thanks to its high-resolution and well-balanced sound the DT 1990 PRO sets new standards, not least in terms of design and workmanship.
MADE IN GERMANY
As with all BeyerDynamic professional studio headphones, the DT 1990 PRO is also handcrafted in Germany. Backed by high-quality materials and meticulous workmanship, this high-end product is a long-term investment.
Ideal for Editing, Mixing and Mastering
With an open-back design plus Beyerdynamic's innovative Tesla drivers, the DT 1990 Pro headphones are ideal for listening, mixing and even mastering. Engineers at Sweetwater know that every component of your headphones makes a sonic impact, and that's why we're pleased to see the DT 1990 Pro headphones come with two sets of earpads each with different sonic characteristics ("Analytical" and "Balanced"). Two cables are included as well (coiled and straight), along with a premium hard case. Beyerdynamic headphones are known worldwide for delivering outstanding sound quality and professional reliability. For reference-quality sound in a pair of rugged headphones, it's hard to beat the Beyerdynamic DT 1990 Pro open-back studio headphones.
HIGH-RESOLUTION SOUND
Power and precision are critical requirements when it comes to sound reproduction. The efficiency of our latest Tesla driver technology is characterized by accurate resolution and high output power. Brilliant highs, a richly detailed midrange and precise bass combine to ensure sublime sound quality that is second to none.
Together with an ingenious open-back design, the high-resolution Tesla drivers ensure a wide, dynamic and extremely natural stereo image. Titanium-coated acoustic fabric and carefully selected precision-woven textiles round off the balanced sound quality.
MAXIMUM WEARING COMFORT
The perfected design of the DT 1990 PRO combines innovation with decades of expertise in headphone technology. High-tech textiles and memory foam filled ear pads ensure exceptional wearing comfort. Headphones so comfortable you almost forget you are wearing them.
OPEN BACK DESIGN
Natural and exceptionally spatial sound is achieved thanks to the open-back circumaural design. The optimized spatial sound reproduction makes the DT 1990 PRO headphones a reliable reference for mixing and mastering applications as well as for critical listening.
TWO SOUND SETTINGS
Choose between a well-balanced sound or analytical sound thanks to replaceable velour ear pads. Both ear pad variants are included to finish off this impeccable studio headphone package.
DURABLE CONSTRUCTION
The DT 1990 PRO is handcrafted in Germany. From a classy headband through to anodized aluminum yokes, these new studio headphones will impress with their exceptional craftsmanship and careful attention to quality and durability.
Beyerdynamic DT 1990 PRO 250 Ohm Open-Back Headphones features:
Open-back studio reference headphones for mixing and mastering
Handcrafted in Germany
250 ohms, 45 mm dynamic Tesla neodymium driver
Single-sided, detachable cable with mini-XLR connector
Soft, replaceable ear pads and headband for long, drawn-out studio sessions
Included accessories: two pairs of velour ear pads with different sound characteristics (analytical and balanced), two pairs of cables (3 m straight and coiled cable), premium hard case
 What is in the box
 Included accessories: two pairs of velour ear pads with different sound characteristics (analytical and balanced),
Two pairs of cables (3 m straight and coiled cable), Both cables are 3-pin mini XLR to 3.5mm, and they each include their own ⅛" to ¼" thread-on adapter.
Premium hard case
DT1990 PRO
User Manual
Garantie Manual.
Frequency Response
5 Hz - 40 Hz
Impedance
250 Ohm
Nominal Sound Pressure Level (SPL)
102 dB SPL (1 mW / 500 Hz)
Maximum Sound Pressure Level (SPL)
125 dB SPL (200 mW / 500 Hz)
Total Harmonic Distortion (THD)
< 0.05% (1 mW / 500 Hz)
Headphone Construction
Dynamic, Open-Back, Over-Ear
Nominal Handling Capacity
200 mW
Weight (without cable)
370 g
Length & Type of Cable
3 m / straight cable or
5 m / coiled cable (stretched),
each detachable with a 3-pin
mini XLR cable connector,
single-sided
Beyerdynamic DT 1990 PRO 250 Ohm Open-Back Headphones with Extra cable 3 Yr warranty - 710490
Customer Reviews
Write a Review
Ask a Question
09/12/2021
Ernesto T.

United States
Awesome headphones!
They sound great, fit comfortably and the build is excellent. Shipping was also fast.
08/16/2021
Vincent

United States
Scary good
So I was about to give these a 4 star review because the comfort of my denon ahd5200 are just a little better. But... as I am typing I am also listening to Thriller on vinyl. The song starts and to the left of my recliner is my front door. If you know the song it starts with a door creaking open in the left channel. To say my heart stopped would be no understatement. It was eerie and I thought someone was coming in my house. The dt1990 could be a small bit more comfortable (maybe pad change), I'm not a huge fan of single sided cables, and Like every headphone the sound is subjective. Another But I think they sound very clear, quick, dynamic, and I like the tone. Distinction between multiple singers or cords on an instrument are easy to tell apart. Background singers or things happening far off the sides are very well defined and easy to understand. They look good imo, and are built very nicely. So 5 stars in the end.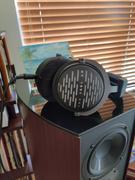 08/13/2021
Jimmy D.

United States
Great with tubes!
These is such a huge leap in performance with these over the 990's. For a more neutral but rich sound I would go with these over the T-5's any day. 10/10 would recommend.
07/25/2021
William H.

United States
Amazing clarity
I continue to be amazed but the separation and clarity of simultaneous high and low frequencies (symbols along with bass drum). More than once while listening through nice speakers I put these on and hear things I didn't hear through the speakers.
07/11/2021
Saikou

United States
Immaculate build, but not for everyone.
I think these are some of the most beautiful and solidly built headphones out there. However, these are not the all-metal, perfectly-built headphones that a lot of reviewers like to claim them to be.