Any mention of "us," "we," "our," etc is by HIFIMAN, not Audio46
The HIFIMAN Arya is the culmination of HIFIMAN Electronics work that developed the Industry leading HE1000v2 and developments in magnet structure used in Ananda and Sundara's driver technology. Never has a company brought this kind of Planar performance at this price point. Fast, wide soundstage, and mind-blowing detail make the Arya a must-listen.
Specifications:
Frequency response : 8Hz - 65KHz
Impedance : 35 Ohms
Sensitivity : 90 dB
Weight : 404g
About this item:

Nanometer Thickness Diaphragm:The planar driver in HIFIMAN's Arya headphone evenly covers the surface of the diaphragm, resulting in distortion-free listening.
Advanced Asymmetrical Magnet Circuit:Years of research into planar driver optimizations led HIFIMAN to utilize an asymmetric design with smaller magnets on the side facing the ear, reducing interference in sound wave transmissions from the diaphragm.
Patented "Window Shade" System:Created to meet the need for driver protection and an optimized open-back design.
Metal and High-Grade Plastic Construction:HIFIMAN designed the Arya's high-quality metal headband with extra strength and a special high-grade plastic for lightweight comfort and rugged durability.
Bold Black Aesthetic: Arya is a statement of both aesthetic and sonic excellence.
WHAT THE PRESS IS SAYING:
"The Arya truly has amazing potential, but it needs to be unlocked.
Well balanced and above average in all aspects of sound quality and comfort. Scales extremely well with improvements in amplification like the Topping A90."
"These $1,600 headphones could be your endgame"
HIFIMAN - Arya V2 Planar Magnetic Headphones
Customer Reviews
Write a Review
Ask a Question
05/27/2021
Thomas G.

United States
Endgame - But not for everyone
The Hifiman Arya were, for the longest time, what I thought were my personal end goal. I was a big fan of the HD 6XX and the Sundaras both, and after demoing the Aryas in-store a while back, I thought to myself that "this is it. This is the pinnacle of that specific sound style." And honestly, it is. The soundstage - something lacking on the cheaper headphones - is damn good. The bass is clean as ****. The treble isn't overbearing, bright but not piercing. The mids feel lifelike. The vocals, the HD 6XX's trump card, are phenomenal. As expected of a headphone that costs $1,600 after all. They are truly worth $1,600. And I prefer the DT 1990s. The DT 1990s, with my padswap, are just as bright, have slightly recessed vocals, have a poorer soundstage, the layering and separation isn't quite as good, but...it's something about the timbre. The slam and impactfulness that the 1990s give you. The slightly muddier subbass compared to the Arya. The 1990s are, to me, more fun. Don't get me wrong, the Aryas are *amazing.* But at the end of the day, while I find that the Aryas are technically better, the 1990s are more fun to me with the Dekoni Choice Suede pads. Also, you can just EQ the headphones and add a bit of a bass shelf and fix everything that I just said, but I absolutely dislike EQ. That's just me.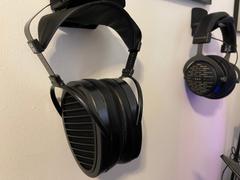 03/09/2021
Shawn M.

United States
Mind blown
Went on a quest to find some good open back headphones under 1k. I'm pretty limited in choices due to my large ears, but I did try Audeze LCD-2, Hifiman Ananda, and even some other closed Dan Clark Aeon Noire and Focal Radiance. Additionally I own LCD2 Closed. The Focals were super small, sounded amazing but I'm not sure even medium sized ears would be comfortable. Love the Audeze opens, but they required different pads to be comfy and the sound Stage wasn't anything to write home about. The Aeons were great and I probably would have kept them had it not been for the Arya. Anandas sounds great with really nice sound Stage, but just a bit bright for my taste. So not having alot of luck, I decided to reach up to the Aryas. I have literally not even looked at any other headphones let alone listened to any. Paired with the Schiit Lyr3, I can't even put into words how awesome they sound. Clear and bright but someone in a way I really enjoy. Bass is smooth and strong, but not over powered and can be Eqd to pretty much whatever your taste. Vocals are so good, right in front of you in the center while all the other sounds flit around the huge three dimension soundstage. It's really hard to put into words!! 46Audio was prompt with shipping, someday I hope to visit their epic looking store! Rating: all the stars!