DD ddHiFi at Audio46
DD ddHiFi DJ44A 2.5mm Balanced Female to 4.4mm Male Headphone Jack Adapter
Ready TODAY Tomorrow
Order in the next for shipping today Order now for shipping tomorrow
FREE U.S. 3-5 day Shipping FREE Local Shipping FREE Local Shipping FREE Local Shipping FREE 3-5 day Shipping
Estimated U.S. delivery between Tuesday, Dec 5 and Thursday, Dec 7 Wednesday, Dec 6 and Friday, Dec 8 (Receive a free upgrade to faster shipping on orders over $100) Estimated delivery as fast as between Monday, Dec 4 and Tuesday, Dec 5 Tuesday, Dec 5 and Wednesday, Dec 6 for , Estimated delivery as fast as between Monday, Dec 4 and Tuesday, Dec 5 Tuesday, Dec 5 and Wednesday, Dec 6 for , Estimated delivery as fast as between Monday, Dec 4 and Tuesday, Dec 5 Tuesday, Dec 5 and Wednesday, Dec 6 for , Estimated delivery between Tuesday, Dec 5 and Thursday, Dec 7 Wednesday, Dec 6 and Friday, Dec 8 (Receive a free upgrade to faster shipping on orders over $100)
Extended Holiday Returns
Sometimes it's not meant to be. Returns period extended to Jan 15, 2024.
Authorized U.S. Dealer
Having issues after 30 days? Comes with DD ddHiFi's 6 month limited warranty
Earn 5% back in rewards! Sign in or Register
Orders under $50 are not eligible for promotional codes. You may still earn and redeem Audio46 Rewards.
↓ Details provided by DD ddHiFi ↓
Apply to 2.5mm balance earphone cable from brands such as Astell & Kern, Fiio, etc
Stylish, Yet Functional Design
The ddHiFi DJ44A has a distinct, compact and delicate design approach. This approach offers a stylish and functional aspect to it when compared to other regular adapters. In addition to this, you can see all the inner workings due to the transparent body. Traditional wire welding problems are eliminated due to the flexible, gold-plated PCB connection. Stainless steel metal parts in the shell make the adaptor suitable for daily use.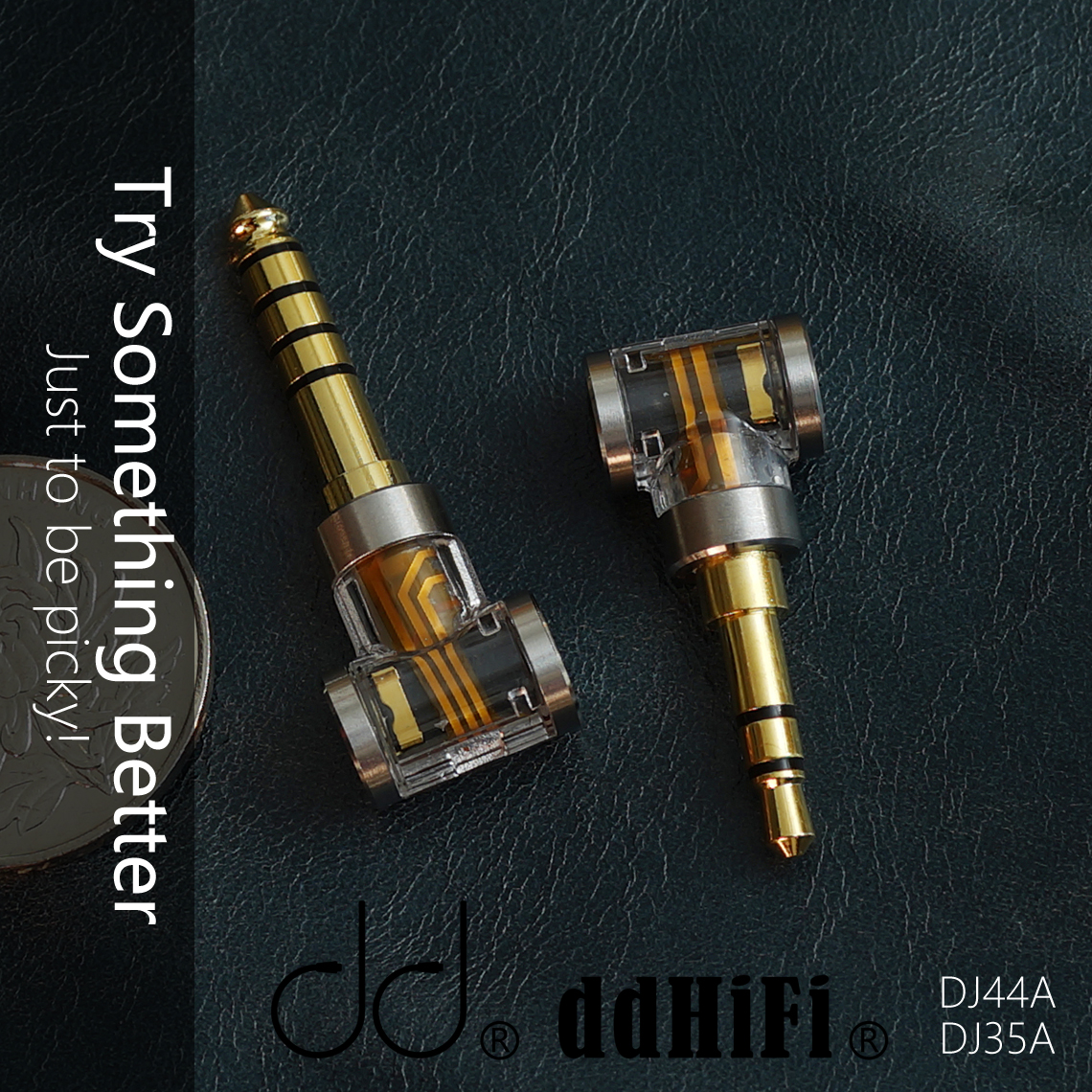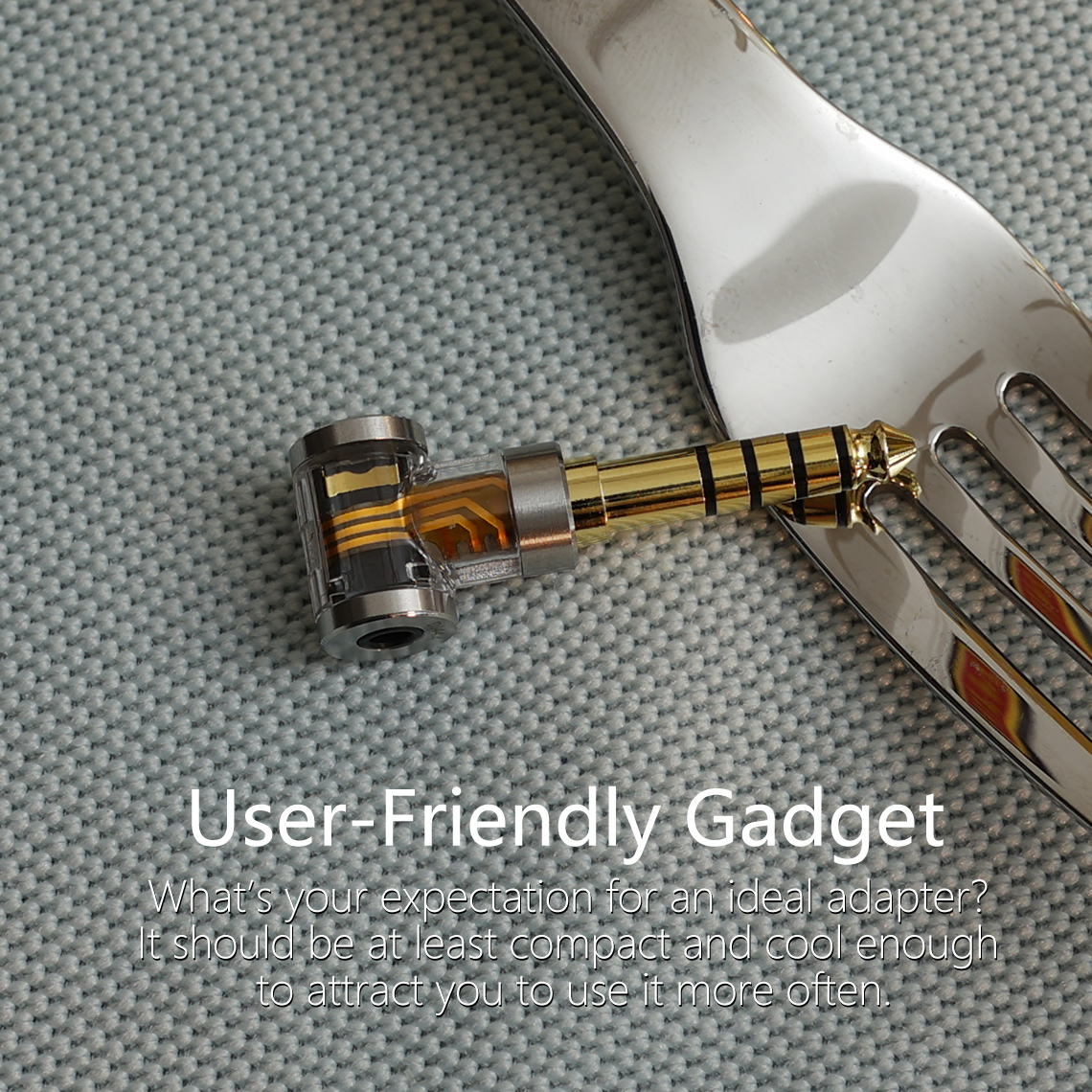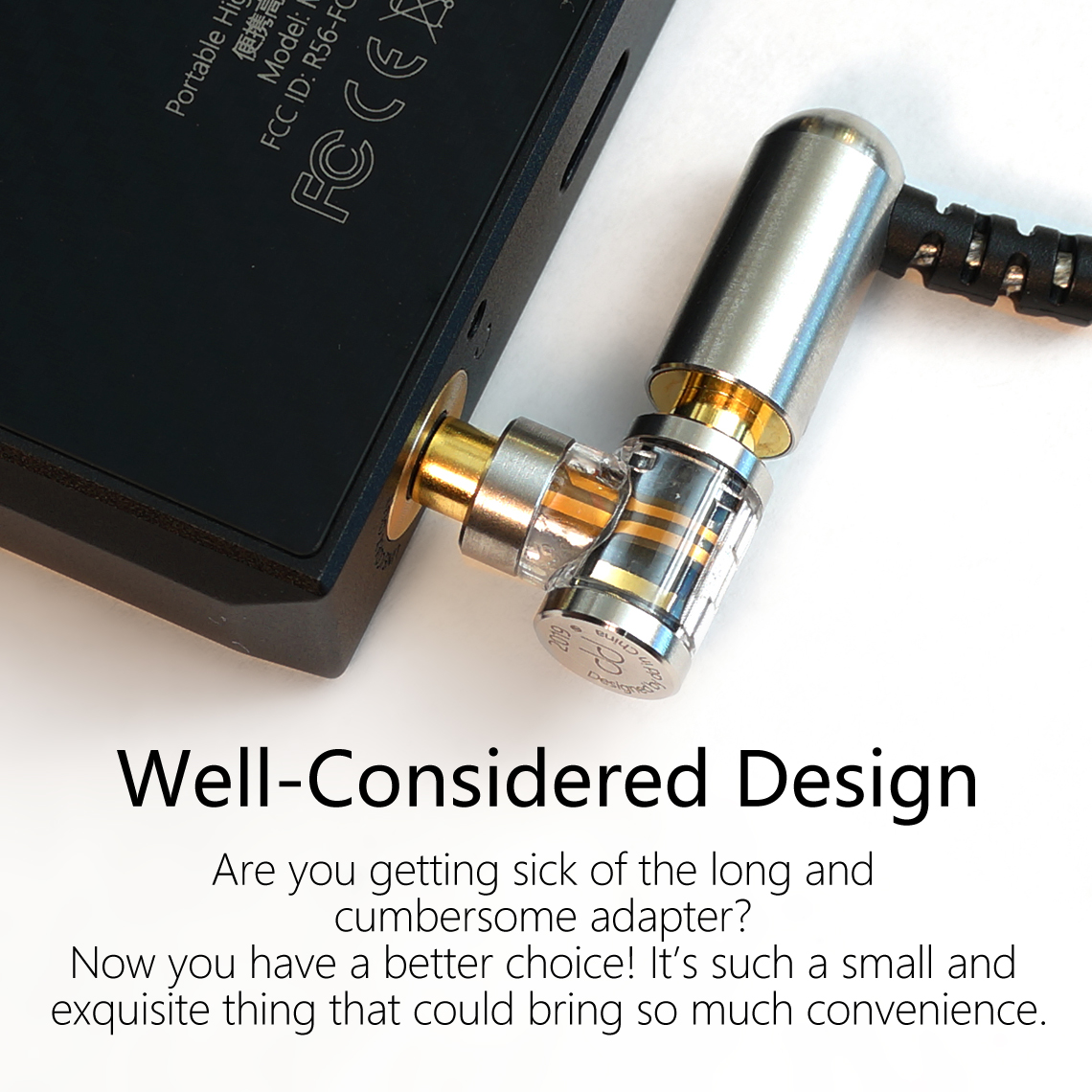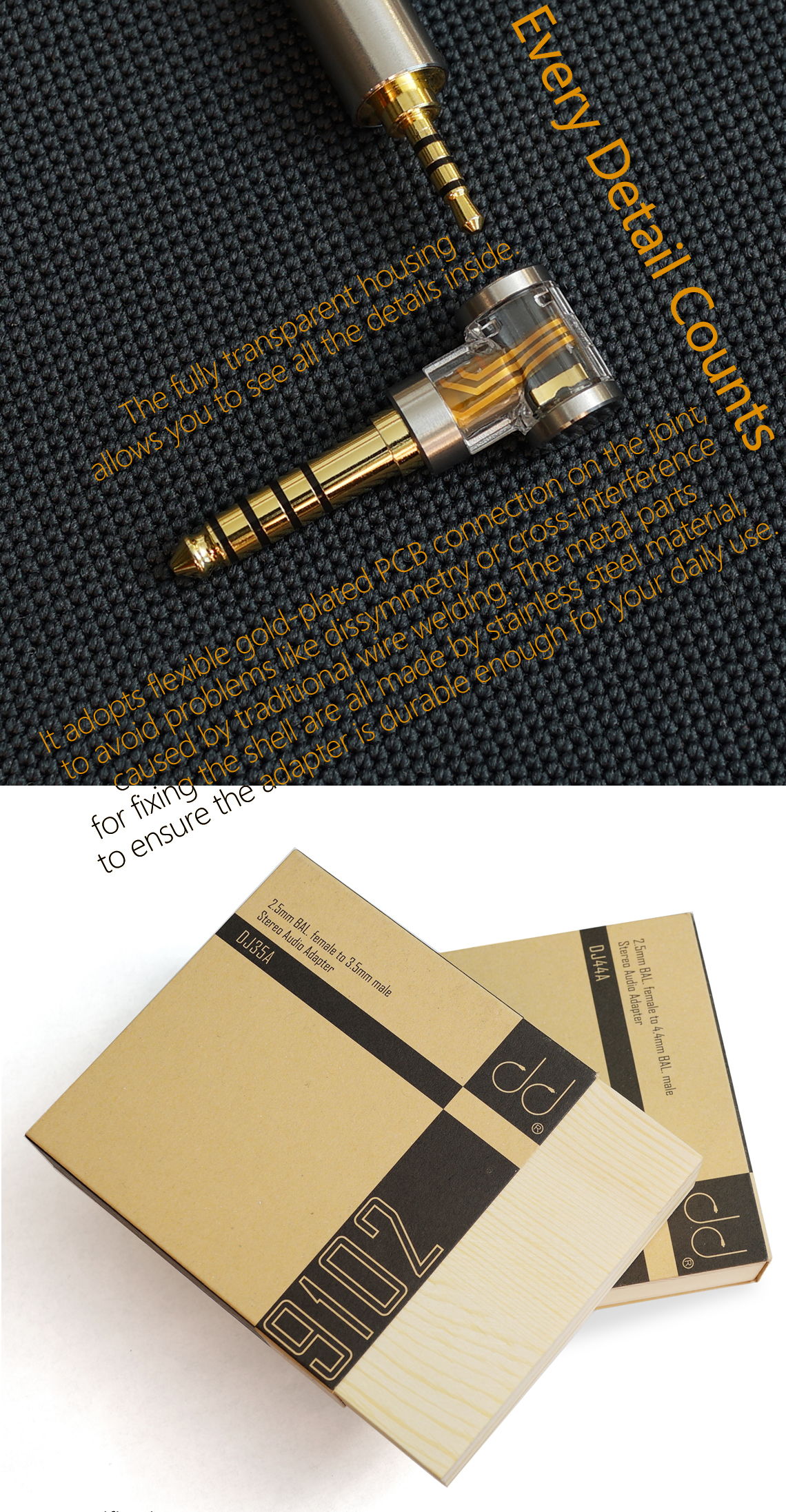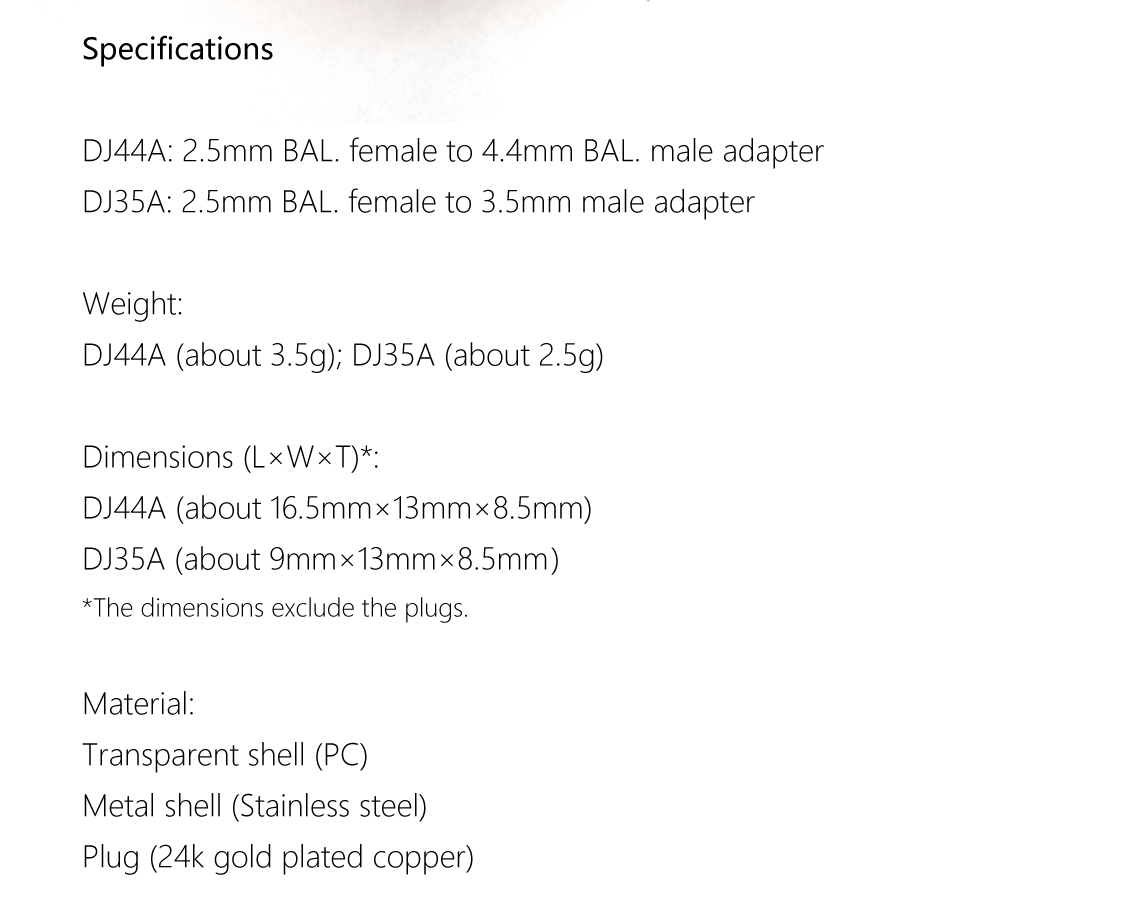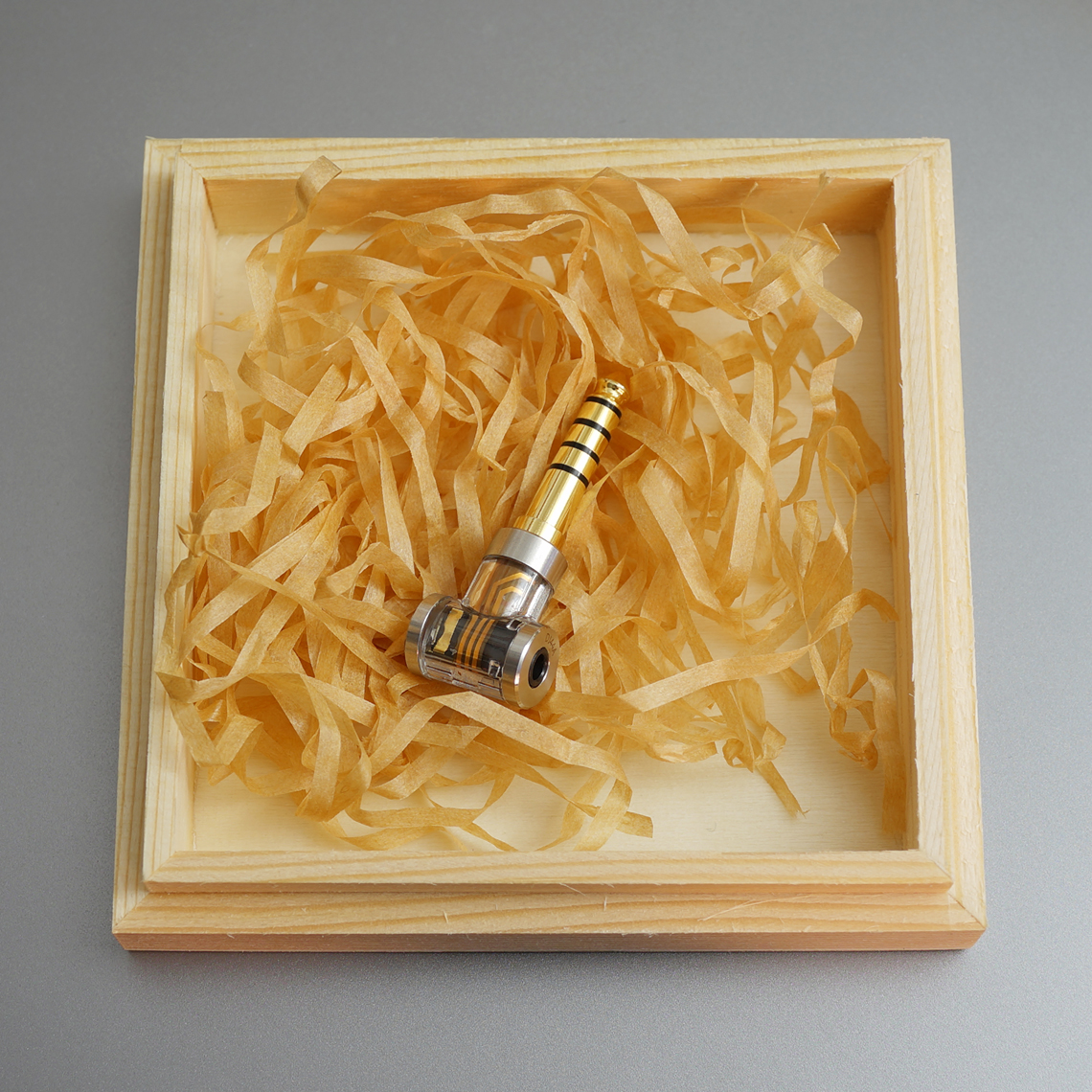 Specifications
DJ44AR: 2.5 mm Bal. Female to 4.4 mm Bal. Male

Weight: about 4.3g

Dimensions: 16.5 mm x 13 mm x 8.5 mm (LxWxT) (Exclude the Plugs)

Material: Transparent Shell (PC), Metal Shell (Plated 316 Stainless Steel), Plug (Rhodium plated copper)