This product has been discontinued by the manufacturer. We're unable to restock.
Any mention of "us," "we," "our," etc is by Grado, not Audio46
Authorized Dealer
1 Year Warranty. Free expedited shipping. 
 Ships only in the USA.
4-Conductor Cable Design
Includes 1/4? Adapter
1 year limited Warranty
Grado - SR80e Headphones
The Action Thriller
Grado Prestige Series SR80e:
introducing Grado Prestige Series SR80e- Whether you're into gaming or jamming, our perfectly proportioned soundstage delivers the midrange you love and the details you crave. The 4-conductor cable and gold-plated mini-plug bring the sparkle back to your audio or gaming system, tablet or phone. Play keyboard or guitar in your own head-space with the comfortable S-Cushions and durable embossed vinyl strap. The only distortion you'll hear will be from your stomp box.
...these are truly wonderful headphones, they've got the bass energy... ripping into heavy tracks with a gusto that eludes lesser rivals. With vocals they intoxicate with a natural feel and beautifully proportioned soundstage: few headphones can transport you as convincingly... The Grado SR80's are special. Buy'em, and Love'em.
- What HiFi
Grado has taken one of the world's most legendary headphones and made it even better. The SR80e has a new driver design, a new polymer to damp resonant distortion in the plastic housing, and a new cable from plug to driver connection. The way the SR80e's new driver and plastic housing move air and react to sound vibrations virtually eliminate transient distortions. This allows the signal flow over the new cable to reproduce sound that has improved tight control of the upper and lower range of the frequency spectrum while supporting Grado's world renowned midrange. The SR80e will produce a sound that is pure Grado, with warm harmonic colors, rich full-bodied vocals, excellent dynamics, and an ultra-smooth top end.
Audio Specs:


Transducer Type: Dynamic
Operating Principle: Open Air
Frequency Response: 20 - 20,000 hz
SPL 1mW: 99.8 dB
Normal Impedance: 32 ohms
Driver Matched dB: .1 dB
Included Accessories:


Headphones, Warranty, Grado story-sheet, 6.5mm Golden Adapter
Grado SR80e Headphones - Discontinued
Customer Reviews
Write a Review
Ask a Question
04/05/2021
Brett G.

United States
Quality Product At Great Price
Had to see for myself what all the hype is surrounding Grado headphones. They are unique to say the least. The high end is magical although depending on the music it can be a bit piercing at times. But when its right it truly is wonderful. Bass is much better then reviewers claim surprisingly and nice strong mids. Build is less the desirable they feel and look cheap but I knew that going in I swapped out the stock pads for L Pads and it made them much more musical to my ears and a tad bit more comfortable. Overall happy with the purchase there isnt another headphone in my collection that sounds like Grados.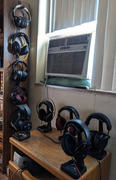 03/04/2021
German M.

United States
Love the SR80e's, but not as a primary set.
I love the open back design and the soundstage that goes along with it. They sound amazing if listening to the right content. Sparkly highs, clean, forward Mids and well defined Lows, but NOT deep at all. No Boom found here. High quality recordings are incredibly detailed and expansive. The highs can be a bit much at times, but it seems to mellow out with usage, at least to me. I use these for watching movies, gaming and listening to classical and acoustic music at home. These really shouldn't be your primary headphones due to it's build and specialized sound. Naturally warm recordings sound best. Build quality is not rugged, the sound fully leaks out being open back, and the cable is clunky & not detachable. Not recommended for office, travel or mobile use.
02/19/2021
K

United States
Really Amazing Especially For The Price
Delivery from across the states was fast af. The quality is 5 stars too, completely worth the $99, a steal actually.
01/18/2021
Andrew M.

United States
Best entry-level HiFi
These are a great entry-level open back. They will get you going and give you a feel of what good headphones can be like.
12/04/2020
jerri j.

United States
Fast and friendly.
I haven't used them yet as they are a gift for my daughter. Received super fast. Can't wait to try them out.