Any mention of "us," "we," "our," etc is by HIFIMAN, not Audio46
Arya
Stunning Audio Value
Stealth Magnets Design
Nanometer Thickness Diaphragm
A breakthrough core technology developed by HIFIMAN and first of its kind in headphone application. Working with this advanced material is extremely challenging yet the successful incorporation of this film as the Arya's planar driver is the cornerstone of its remarkable sound.
Submicron Thickness Conductor
Nanometer Thickness Diaphragm
Acoustically Invisible Stealth Magnet
Unlike the sound waves created by a conventional magnet, the special shape of Stealth Magnets enables the waves to pass through the magnets without generating interference.
HIFIMAN's advanced magnet design is acoustically transparent, dramatically reducing wave diffraction turbulence that degrades the integrity of the sound waves. The reduced distortion yields pure sonic output that is accurate and full-range.
Patented "Window Shade" System
Created to meet the need for driver protection and an optimized open-back design
Asymmetrical Ear Cups
Follows the natural shape of the human ear.
Sturdy 3.5mm User-replaceable Connector Design
Allows easy cable swapping, giving both maximum durability and enhanced customizability.
HIFIMAN Metal and High-Grade Plastic Construction
HIFIMAN designed Arya's high-quality metal headband with extra strength and a special high-grade plastic for lightweight comfort and rugged durability.
Bold Black Aesthetic
With its classic HE1000-style shape combined and striking good looks of its all-black exterior, glossy black headband, and eye-catching matte-black cups and grill, the Arya is a statement of both aesthetic and sonic excellence.
Cables
The Arya keeps things simple with a single Crystalline Copper cable. Featuring a 6.35mm plug and a jet black woven exterior finish it's the perfect complement to the sound and sight of the Arya.
Specifications
Impedance: 32Ω
Sensitivity: 94dB
Frequency Response: 8Hz-65kHz
Weight: 404g (14.30z)
Customer Reviews
Write a Review
Ask a Question
10/26/2022
raul m.

United States
Excellent headphone!
I am very happy with this new version of the Hifiman Arya. Separation is excellent, bass great, very spacious (not at the level hd800s). Very light, I have been wearing it for hours an no problems. The only cons is the cable a bit short.
10/08/2022
Jesse R.

United States
Great all-rounder
Fantastic jack of all trades. Massive soundstage and incredible detail. Sadly, these did not fit my head well.
07/09/2022
Kenny H.

United States
Fantastic Headphones
I love these headphones. I personally prefer a neutral tuning with just a *little* extra treble and these headphones deliver perfectly! It can be hard to find a good pair of headphones that manage to give that extra umph in the highs without sounding sharp or sibilant but I don't have to look any further
06/08/2022
John H.

United States
I am simply amazed!
I started my headphone journey with Hifiman because I found the Planar magnetic design more realistic than dynamic drivers. So, I bought a pair of HE400se from Audio46 and found them to be a big improvement for desk or home listening from the wireless cans I use when traveling. I use an iPhone and my source is streaming high-res audio via Deezer. But I wondered, if the HE400se's sound this good, imagine what their big brothers might sound like? So, I purchased the Sundara model (along with a iFi HipDac2 DAC/Amp). It was an unbelievable step up, in terms of detail and presence. Now I am hooked, but that lingering feeling about just how good a headphone can be still existed. So, (totally impulsively) I purchased the Arya model and cannot describe the intimacy these bring to a good recording. The detail of the instruments, the broad and accurate soundstage, the neutral and lifelike reproduction is astounding to me. Based on an online group discussion, I added more power by upgrading to an iFi iSDS Signature DAC/amp. I am loving what this combination delivers to my ears. Is the Susvara model in my future? Admittedly I am curious but at $6K plus the need to upgrade to a desktop amp and DAC (probably over ten grand for a good setup) not bloody likely. But each day I continue to explore new tracks and the Arya have never failed to impress. I can highly recommend them.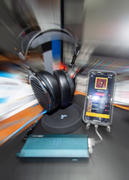 05/15/2022
Travis W.

United States
Best I've Ever Heard
I've owned the Focal Clears, HD 800S, the LCD-X's and more. The Arya Stealth beats them all (although the Clears are probably a better financial deal. High recommend. Audio 46 was insanely quick and has customer service better than just about anyone.